LifeStone® Tribute Cremation Ashes Ring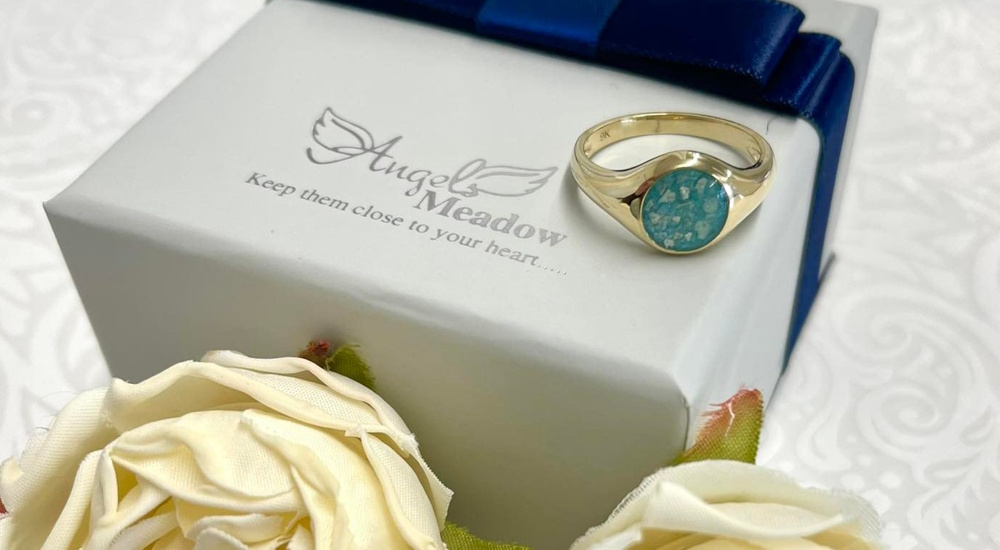 We are thrilled to present to you our exceptional Classic Tribute Memorial Ashes Ring, a truly remarkable keepsake that encapsulates the essence of your cherished loved one. Designed with timeless elegance, this extraordinary ring serves as a tangible connection, allowing you to hold them close to your heart in the most heartfelt manner.
At the core of this classically designed ashes ring lies a plain traditional round LifeStone® stone, meticulously crafted to perfection. With a wide array of 20 beautiful colours to choose from, you can select the one that resonates most with your unique bond and personal taste.
Our devotion to creating a truly meaningful tribute is reflected in the careful process by which our LifeStone® cremation memorials are fashioned. Each memorial is crafted using a blend of genuine crushed diamonds, imbued with the very essence of your loved one's cremated ashes. This intricate fusion of precious materials ensures that every piece is as exceptional and one-of-a-kind as the life it commemorates.
Indulge in the profound significance of our Classic Tribute Memorial Ashes Ring—a testament to the everlasting bond you share with your loved one. It stands as a timeless symbol of remembrance, offering solace, and providing a tangible connection to the beautiful memories you hold dear.
 Specifications & Additional Information:
·        Choice of 20 LifeStone® Colours
·        Diamond Dust added to every LifeStone® at no extra cost
·        Available in UK sizes L-T (Additional sizes available at no extra cost - Please allow 8 weeks for these to be made).
·        Sterling Silver Featuring Rhodium Plating
·        Luxury Branded Gift Box and Packaging
·        Comes complete with a certificate of authenticity
·        Standard delivery in just 7 days - Please allow 8 weeks for gold jewellery.
·        1 Year Warranty
Ordering Process:
Once we have received your order, we will send out your ashes collection kit the same day (if ordered before 2pm).
If you do not know your ring size your ashes collection kit will come complete with a ring sizer and confirmation form so that you can confirm these details later.
The Ashes Collection Kit Contains:
·        Small plastic spoon
·        Ring sizer (If required)
·        A sealed vial for your ashes
·        Order confirmation form and pen
·        Free post return padded envelope
We will keep you informed every step of the way and as soon as your ashes kit lands on our door step an email will be sent straight out to let you know! We will begin making your jewellery right away and whilst in our care, your loved ones ashes will be treated with the utmost care and respect. Our standard delivery time is just 7 days, however if you do require your jewellery urgently, we offer an express 24 hour service (from the time we receive the ashes) for an additional fee of just £15.
Once complete, your finished jewellery will be delivered on a next day courier service. Your delivery tracking information will either be emailed or sent by text message. Any unused remains will be returned to you along with your jewellery.
Please note: The 'natural' LifeStone™  colour will vary depending on the colour of your loved ones remains.