LifeStone® Ladies Forever Together Hearts Cremation Ashes Ring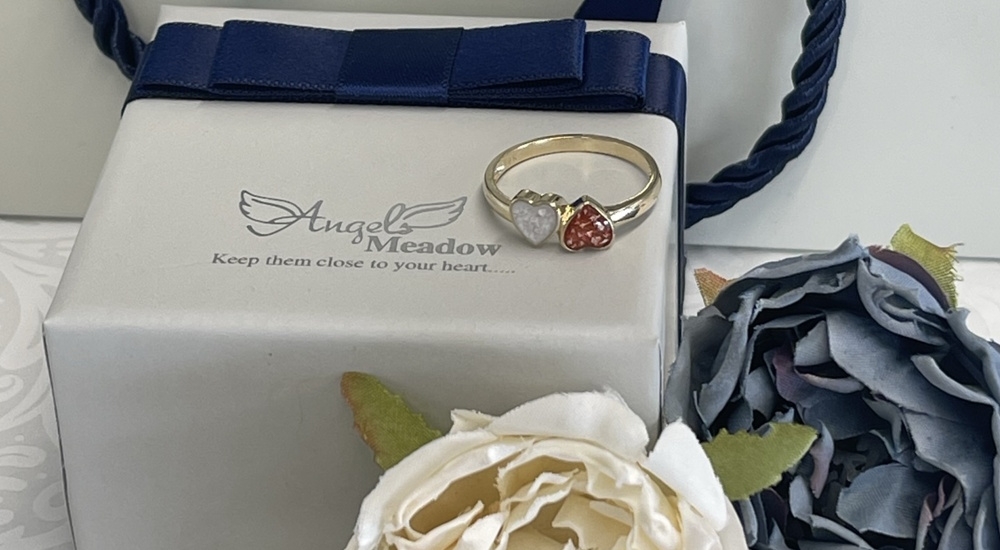 Introducing the captivating Forever Together Hearts Memorial Ashes Ring, meticulously designed to embody the eternal bond between loved ones. This exquisite piece of jewellery serves as an extraordinary keepsake, a tangible reminder that allows you to keep your cherished loved ones forever close to your heart.
Crafted for women, this ring showcases a harmonious union of delicate beauty and profound symbolism. At its center, two heartfelt LifeStones tenderly embrace each other, symbolising the eternal connection shared with your beloved.
Beyond its undeniable aesthetic allure, this memorial ring holds a profound purpose. It stands as a sanctuary, a sacred vessel that cradles the essence of your loved ones. Every LifeStone® memorial is meticulously handcrafted using a combination of genuine crushed diamonds and the precious ashes of your departed, culminating in a truly exceptional tribute.
By fusing the enduring strength of diamond dust with the unique essence of your loved one's ashes, this remarkable piece of jewellery becomes a tangible representation of their everlasting presence. As you wear it, you can find solace and comfort, knowing that a part of them remains forever intertwined with your own journey.
With each glance at this extraordinary ring, you will be reminded of the depth of love and the cherished memories you hold dear. The Forever Together Hearts Memorial Ashes Ring transcends ordinary jewellery, becoming a testament to the enduring bonds that surpass time and space.
Indulge in the beauty and significance of this exceptional piece, and honor the lives that have shaped your own. Embrace the solace and tranquility it brings, as you carry your loved ones with you in a tangible, heartfelt manner. Let this timeless keepsake be a treasured symbol of the unbreakable bond you share, forever united in the Forever Together Hearts Memorial Ashes Ring.
This ring can hold two sets of ashes in two different colours. Should you wish to choose this option an additional colour can be selected on your confirmation card when you return your ashes pack. 
 Specifications & Additional Information:
·        Choice of 20 LifeStone® Colours
·        Diamond Dust added to every LifeStone® at no extra cost
·        Available in UK sizes K-T (other sizes available at no extra cost - please allow 8-10 weeks).
·       Genuine Swarovski Crystals
·        Sterling Silver features rhodium plating
·        Luxury Branded Gift Box and Packaging
·        Comes complete with a certificate of authenticity
·       Standard delivery in just 7 days - Please allow 8 weeks for gold jewellery.
·        1 Year Warranty
Ordering Process:
Once we have received your order, we will send out your ashes collection kit the same day (if ordered before 2pm).
If you do not know your ring size your ashes collection kit will come complete with a ring sizer and confirmation form so that you can confirm these details later.
The Ashes Collection Kit Contains:
·        Small plastic spoon
·        Ring sizer (If required)
·        A sealed vial for your ashes
·        Order confirmation form and pen
·        Free post return padded envelope
We will keep you informed every step of the way and as soon as your ashes kit lands on our door step an email will be sent straight out to let you know! We will begin making your jewellery right away and whilst in our care, your loved ones ashes will be treated with the utmost care and respect. Our standard delivery time is just 7 days, however if you do require your jewellery urgently, we offer an express 24 hour service (from the time we receive the ashes) for an additional fee of just £15.
Once complete, your finished jewellery will be delivered on a next day courier service. Your delivery tracking information will either be emailed or sent by text message. Any unused remains will be returned to you along with your jewellery.
Please note: The 'natural' LifeStone®  colour will vary depending on the colour of your loved ones remains.